An astounding warranty, unbeatable reliability and a great level of equipment has prompted What Car? to name the Kia cee'd 1.6 GS as its Small Family Car of the Year in the magazine's Used Car Awards.

And What Car? recognises that it took a "great car" to unseat the Ford Focus - winner of the title for the "last few years" - but is positive that the Kia merits its win.

Praising it as "reliable and dependable" What Car? points out that the cee'd was also the best small family car in the 2010 J.D. Power survey - the only car to merit a full five star award and selecting the 2008 08-plate model the magazine stresses that any buyer will still get five years of Kia's 7 year warranty introduced with cee'd.

Steve Fowler, Editor-in-Chief said: "Whether you are buying privately or at a dealer you'll have the remainder of Kia's great seven year warranty for peace of mind."

Michael Cole, Managing Director of Kia Motors (UK) Ltd., retorted: "Even better Steve - if you buy an Approved Used cee'd from one of our dealers your warranty will be topped back up to seven full years! And for a used buyer it doesn't get much better than that.

"We are delighted to win this award hot on the heels of the J.D. Power survey result because it confirms what we have always known - the cee'd is a perfect small family car for retail customers!" he added.

The Kia cee'd 1.6 GS was launched with a four cylinder 1599cc petrol engine producing 124 bhp and returning fuel economy in excess of 44 mpg. It received a 5 star Euro NCAP safety rating.

Anyone wanting to track down the What Car? Small family car winner can do so through
www.kia.co.uk
KIA cee'd wins Small Family Car award
DueThe IAM (Institute of Advanced Motorists) urges drivers to ensure their tyres are in good condition, rather than wait until surface water, frost or snow turns the road under their wheels into a skid pan.

As tyres have only the area of the sole of a shoe in touch with the road at any one time, it's a safety 'no-brainer' to keep them in top condition, and extra care is needed at this time of the year when sudden heavy showers can profoundly affect tyre performance. More roads will also be worn out due to cut-backs on resurfacing, and this combination with worn out tyres is potentially lethal.

Peter Rodger, IAM Chief Examiner, said: "Under-inflation causes excessive tyre-wear, with every ten per cent under the recommended optimum decreasing tyre life by ten percent.

"Vehicles of drivers found to be at fault in high-speed accidents were found to be six times more likely to have worn tyres than those of the other drivers involved*. Keeping your tyres maintained is an important part of car-care, not only for safety but also for fuel-economy; under-inflated tyres will increase fuel consumption."

Mr Rodger gives some simple tips on checking the condition of your tyres:

Check the general state of the tyre for cuts and bumps on the tyre wall and uneven wear
Check that your tyres are correctly inflated (ideally when they're cold) –you can find the recommended pressure listed in the car's handbook, or on the manufacturers plate, fitted in many cars·

The legal minimum for tyre tread in the UK is 1.6mm, but for optimum safety you are advised to start looking for replacements if the depth is below 3mm. Tyres with less than 1mm of tread depth have one third the braking friction of one at the bare legal min of 1.6mm, and below 3mm the tyres skid resistance begins to decline rapidly

Just because tyres are legal, they still may not be at an optimum for braking safely in all conditions. When there is a 2mm film of water on the road, even 2mm of tread may give no better stopping friction than a bald tyre*. Have a quick look over your car once a week to notice any changes, and get your tyres checked by an expert if you are unsure.
Up to 42,000 British Touring Car Championship fans have been praised by HiQ for helping to raise £5,000 for Breast Cancer Care. Clad in pink, the network descended upon Brands Hatch to make the final race weekend of the season one to remember for HiQ's official charity.

HiQ's team of pink girls were on hand to give away caps and replica cars in return for donations to the cause. And after counting the particularly heavy collections buckets from Sunday, the network can now reveal that £5,000 was raised through generous donations.

Of that total, the BTCC marshals at Brands Hatch have been singled out for a special mention, after raising £600 themselves.

HiQ's marketing manager Geraldine McGovern said: "We can't thank everyone enough for making our fundraising effort such a huge success.

"We have always been amazed by the on-track action at each BTCC race weekend, but even that pales into comparison when we think of how brilliant each and every fan of the series is.

"From the moment we became involved in the championship in 2008, we've benefited from the support and interest shown from spectators in everything we do.

"Never more has this been in evidence that on Sunday, when we were taken aback by the levels of support from everyone at the circuit - from the fans right through to the trackside marshals, who were particularly fantastic."

The money will now play a huge role in helping HiQ to hit the £100,000 target it aims to reach for the charity.
As recognition of the class-leading position BMW Group vehicles command, courtesy of EfficientDynamics technologies, the marque has once again scooped the top prize at the Green Fleet Awards to be crowned Fleet Car Manufacturer of the Year.

BMW Group was recognised, for the third year in a row, as the car manufacturer that had shown the greatest improvements in CO2 emissions, had expanded its range of low emission vehicles or offered alternative fuel vehicles to fleet customers. This commitment is demonstrated by the introduction of vehicles such as the new BMW 5 Series, which has significantly lower CO2 emissions than its predecessor at 129g/km for the 520d, and the BMW 320d EfficientDynamics, with combined CO2 emissions of 109g/km.

Angela Pisanu, Editor of Green Fleet, said: "Through its EfficientDynamics initiative, BMW has continued to raise the bar in respect of delivering class leading reductions in carbon dioxide emissions whilst at the same time maintaining exceptional vehicle performance and economy. BMW's achievements in small, medium and in particular the upper fleet vehicle sector convinced us that the firm is once again a worthy winner."

Stephen Chater, BMW Group Corporate Operations Manger, said: "It is great news that we have once again been crowned Fleet Car Manufacturer of the Year. This award recognises BMW's continued commitment to reducing emissions through its EfficientDynamics programme, across the whole range."
Aston Martin is pleased to confirm that the Cygnet luxury city car – originally shown as a concept car in March - is to go into production in 2011 at the company's Gaydon headquarters in Warwickshire.

The Aston Martin Cygnet is a city car that sets a new benchmark for compact luxury, building upon nearly a century of experience building high performance sports cars, luxurious long-range grand tourers, and extremely competitive racing machines.

Cygnet demonstrates Aston Martin's commitment to innovation and integrity.

"It is time to think differently. Aston Martin is honest and we don't make compromises" says Aston Martin CEO Dr Ulrich Bez.

"Whatever we do, we do right. If we do performance, we do performance; we don't downsize or compromise our sports cars. The Cygnet needs to satisfy the demands of emissions and space. It is a car without compromise, just like every other Aston Martin.

"Our customers need a small car for urban and city use, and they want the right tools for the right job, to downsize creatively without compromising intelligence, artistry and personality."

Cygnet expresses a simple but fundamental idea: in the modern city, scale equates to speed and freedom. At just three metres long, the Cygnet gives the driver a new dimension of freedom, able to slot into gaps in traffic, exploit the smallest parking spaces, consume the least fuel and emit the lowest emissions, all while delivering exceptional levels of quality and comfort.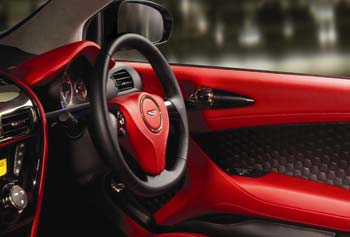 "Cygnet is small but luxurious, an Aston Martin tailor fit for the city," says Marek Reichman, Aston Martin's Director of Design. With an almost unlimited palette of materials, colours and textures, each hand-finished Cygnet will be truly unique, a personalised space within the city. "Luxury is not constrained by scale."

Cygnet is a product of Aston Martin's unrivalled experience in craft, technology and design. The future city will present a very different luxury brand landscape, as social change and legislation increases the division between urban and anti-urban product categories. With the Cygnet, Aston Martin will be at the forefront of these changes, ensuring the company's enduring brand image will continue to prosper in new market conditions.

Dr Ulrich Bez continues: "The Cygnet is designed to support our sports cars by providing a greater degree of freedom in the urban context; it is a very special car, a premium but compact package with heart, soul and personality."

The Cygnet, a tailor fit solution for the city, will help drive Aston Martin into the future. "This car is reality; Cygnet is the natural choice for those who want a premium, bespoke commuter car."

Further details on the Aston Martin Cygnet including pricing and specification will be announced later this year. The Cygnet will be the eighth major production car Aston Martin has introduced at its state-of-the art factory since 2004, offering further evidence of the company's ongoing commitment to British manufacturing, backed-up by a dedicated local workforce and supplier network.
Get a grip says the IAM
HiQ thinks pink for charity
Land Rover animates its Freelander 2 campaign
BMW carries green fleet crown for third year
Aston Martin Cygnet set for production
What Car? Car of the Year
Raising £5,000 for charity
'Luxury not constrained
by scale'
Land Rover is this month launching a new global marketing campaign for the 2011 Freelander 2, featuring an animated character named 'Clay Mason'. The campaign will premier a 30 second film online and air on TV in the UK from January 2011

"The Freelander 2 is Land Rover's best selling model in the UK and the 2011 model year features a new, refreshed exterior and revised interior," said Phil Popham, Land Rover managing director. "The Freelander 2 offers a class-leading breadth of capability unrivalled in the compact SUV segment and therefore we wanted to encapsulate this in an innovative film using cutting-edge animation for a global campaign."

The concept was created by Land Rover's global advertising agency (Y&R/Wunderman) and produced by Hornet Inc., based in New York. Filming took five weeks to shoot plus a further four weeks to edit and produce. The film will be offered in several different edits including the full 30 second film, plus 20 and 15 second versions.

To view the new campaign videos log on to www.youtube.com/landroveruk